Earlier this fall, I searched for some pre-writing activities that could reinforce the Chinese characters I was introducing in an after school class I was teaching at my kids' school.
When I couldn't find exactly what I was looking for, I adapted an old standard:
I discovered that the color-by-number idea works pretty well with beginning Chinese characters. And even better: it was accessible to the little ones in my class who were just getting used to writing with a pencil.
Click here to download the snazzy color-by-number printable above. I've numbered each stroke of the character (4, s

ì), so each stroke should end up a different beautiful color.
*****************************************************************************


If you want to make your own color-by-number Chinese character, here are 2 ways you can do this:


The first way is what I call the Easy Peasy Draw Your Own method
.
It's just as it sounds: Hand-draw your own color-by-number character. This is doable, even if you are just beginning to learn Mandarin.
Go to the dictionary at yellowbridge.com. You can input your word in English, Chinese characters, or pinyin. Then, after you've found the character you're looking for, click on "stroke order" to see how to write the character.
Write the character in outline form.
Section off the strokes, and number the sections.
Write in your number/color designations (i.e. 1=yellow).
And Done!


************************************************************************
If you want a little more technical finesse in your final product...Turn it into WordArt!
1. Using your Chinese input on your computer, type your character in a new Word document.
-->If you do not have Chinese input, you can type the pinyin into Google Translate, copy the Chinese character from Google Translate, and paste it into a Word document.
-->If you want to get fancy, choose a different Mandarin font for the characters. I used Hannotate TC Regular because it looks like handwriting.
2. Highlight the character you just typed or pasted in the Word document. Select "WordArt" under the Insert menu. You should now see the Chinese character that you typed in outline form.
-->This may look different on your computer depending on if you're using Mac/Windows and how recent your operating system is. Check out
this link from Microsoft support
to walk you through inserting WordArt in a Word document.
3. Adjust the style of your WordAr
t according to your preferences in the WordArt/Formatting toolbar. Again, the location of this toolbar will be different depending on your computer.
Refer to the Microsoft Support page
if you get stuck.
4. Adjust the size of the new WordArt according to your preferences. I resized mine to 400 pt. You may have to expand the size of the text box to accommodate the bigger size.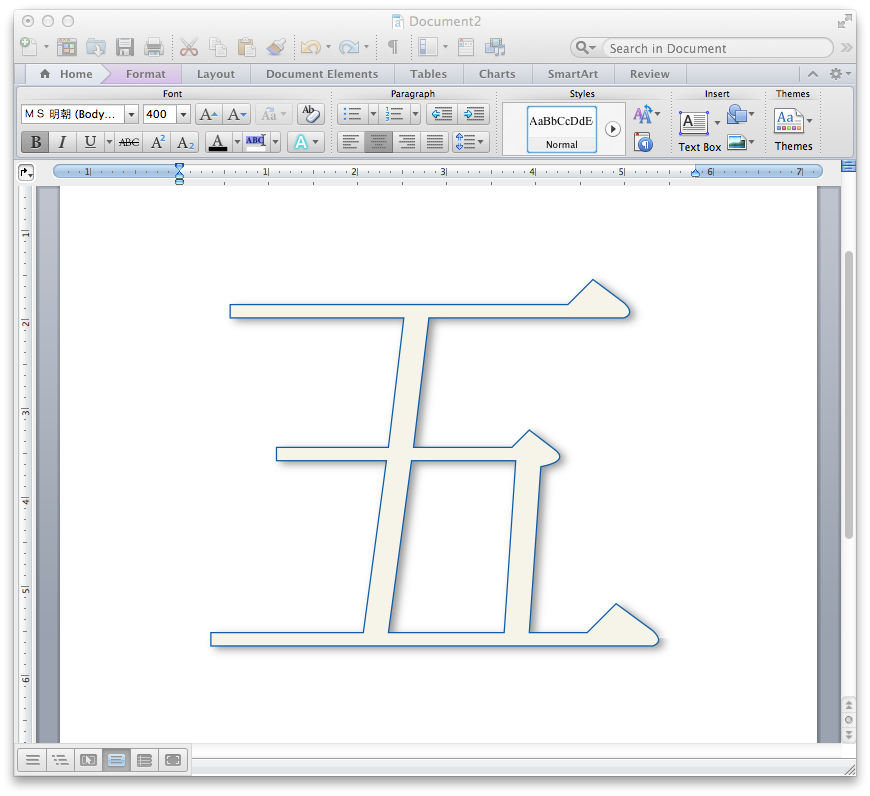 5. Now you have a choice to
A.
save, print, and then hand draw all the little dividing lines in to make it a color-by-number, or
B.
save as a PDF and upload to PicMonkey where you can do this on your computer.
-->If you choose Option A, well done! Enjoy your new, snazzy Chinese character outline.
-->If you choose Option B, very nice! Please read on for further instructions.
6. The next step is to convert your PDF to jpg. There are lots of free PDF to jpg converters online. I'm not an expert here, but take a look.
7. Once you have converted and saved the WordArt character you created as a jpg, go to Picmonkey.com, choose "edit" and upload the jpg.
-->If you're not familiar with PicMonkey, it's awesome!!! It's a online photo editing tool. I use their free tools, but you can also pay a fee to access more tools (they're not paying me for this promo--I just really love the website=)
8. After you have uploaded your jpg, choose the tool on the left side of your screen that looks like a tube of lipstick and scroll down the list of tools until you see "draw"(under "Artsy").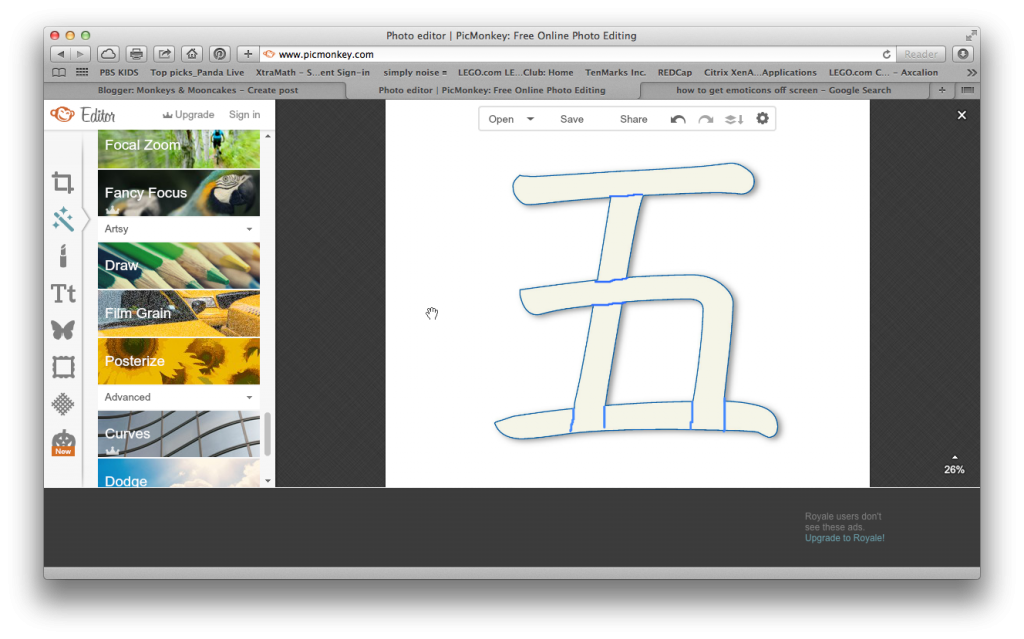 9. Adjust the brush size and color according to preference, and then draw in any dividing lines (to separate strokes).
10. Next, click on "T" (for add text) and click on the "add text" button. When the text box appears, choose a font and type in the numbers that will dictate which color to use when your little ones color in. Position and resize as you see fit.
-->You will have to add a new text box for each number.
10. Once you are finished, save to your computer.
And Done! You now have a nifty color-by-number Chinese character image that you can use in any document, using "insert picture."
What pre-writing activities

do you use in your home
to teach Mandarin
?