With Thanksgiving weekend behind us, Christmas preparations are well underway in our house. We've set out the advent candles, carefully arranged the manger scene, and hung lights on our small pines outside.
I've started thinking

about Christmas cards too. I love sending holiday greetings to friends close and far away, maybe including a recent family photo and a personal message.
It's a great way

for me to communicate "I care about you." And because I'm super sentimental, I often tuck the cards I receive away in a drawer (especially the ones with hand-written messages), and pull them out to re-read years later.
So last night, inspired by the twinkling holiday lights in our neighborhood and sweet little bird that frequent our our backyard, I created a pretty Chinese-English Christmas card, one to send to Mandarin-speaking friends and family members, one that would have plenty of space for me to write a personal message.
And in the spirit of Christmas, I want to share these with you!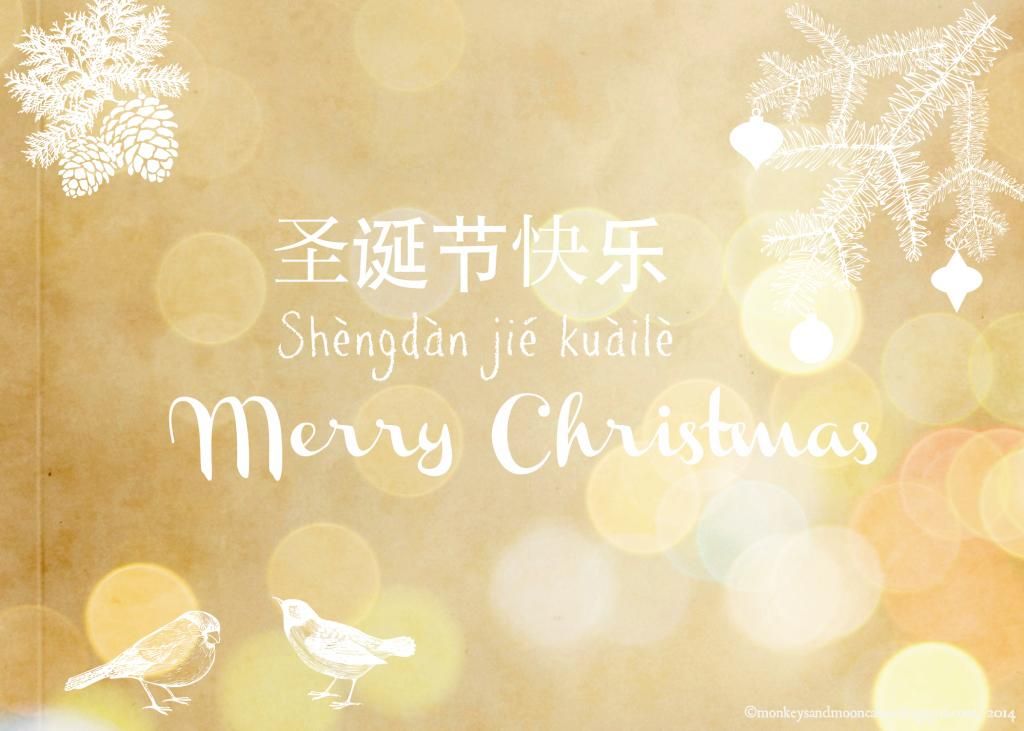 Click here to download the first card (with pastel dots).
Click here to download the second card (with colored dots).
Click here to download the third card (the sparkly one...I couldn't resist the bling=)
The deets: Each PDF file contains one 5x7 horizontal half-fold card. Print it out and write a note to a friend or family member! Cards are blank inside.
If you use these cards this holiday season, perhaps you can say "thanks" by:
Liking Monkeys & Mooncakes on Facebook
Follow Monkeys & Mooncakes on Pinterest
Share the link to this page or pin it
Thanks!