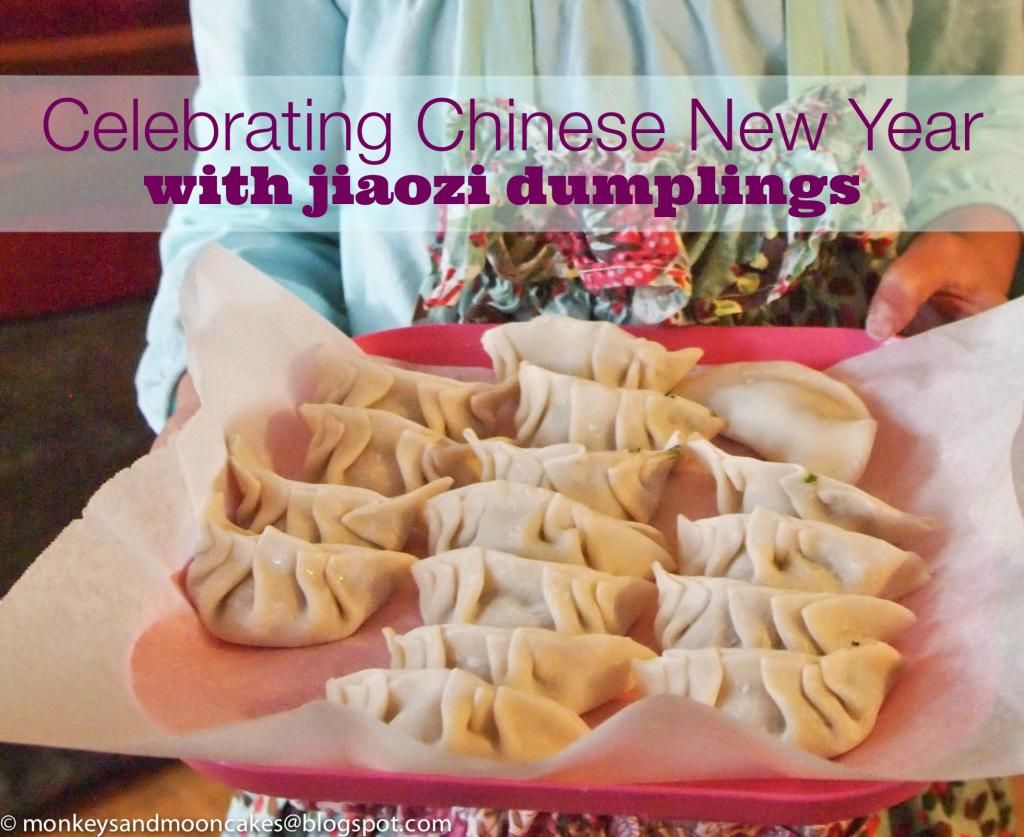 With Chinese New Years just around the corner (

Feb. 19

), I have dumplings on my mind...
In 2012, I shared a post about dumplings (jiǎozi

,

饺子

) and family togetherness on
my

Rice and Pasta, Please! blog

.
Since dumplings and spending time with my family are
some of my favorites things about the holiday, I decided to share a revised version of the post with you!
The phrase tuántuán yuán yuán (

团团圆圆

) is often used to describe Chinese New Year (CNY). It literally means "the family is happy and together" because CNY is a time when families come together--to cook, eat and celebrate the beginning of the Lunar New Year.
Making dumplings (jiǎozi,

饺

子

) is a wonderful togetherness activity to do with your friends and family during CNY. The wrapping process can take several hours so it's a great time to
chat and catch up.
Although our family's CNY's traditions change from year to year--some years we eat out and
watch a lion dance, other years we invite friends over for a big Chinese feast--we always
manage to
include at least one
jiǎozi-
making event into our celebrations
.
So you want to make

jiǎozi at home? Wonderful!


What you need to know:
1. You can make your own dumpling wrappers. Really. We've rolled out and wrapped jiǎozi
in homemade wrappers before (made by someone else), but this year, I'd love to make our own homemade wrapper recipe. I'll let you know how it goes!




2.

Don't want the hassle of making your own wrappers? No problem!

You can buy

pre-made wrappers (in the freezer section of your local Chinese supermarket).




-->

We use pre-made

dumpling

wrappers for

jiǎozi that are

boiled, but prefer the thinner

wonton

wrappers for dumplings that are fried. It's personal preference really, but just know

that there are both types out there.




3. There are infinite ways to wrap jiǎozi--well, maybe not infinite...but a lot!

-->

There is

the pleat method. In this technique, each side of the outer wrapper is pleated
toward the center. Pleats are then pressed firmly to the bottom wrapper.
-->
Feeling creative? Design your own signature fold.
Just make sure the seal is tight enough
so
that
the filling won't sneak out when it's tossed into the pot of boiling water.
Here are some of our inventions: the stegosaurus and the purse
4. No matter how you wrap your dumplings, each method requires a little extra moisture
for a tight seal (this seems especially true with frozen wrappers). Dip your index finger into a
small bowl of water, and run your finger along the edge before starting to pleat the wrappers
.
5
.
Need a recipe for a good filling? I've got you covered. Check out
Chinese jiaozi two ways
from Madame Huang's Kitchen for beef and pork/shrimp recipes.
6. Last thing: Chinese dumplings freeze wonderfully (for at least a month). When you want to use them, just drop them frozen into boiling water (no need to thaw!)
How will you celebrate with family and friends this CNY?