October flew by! And although we met for Mandarin class, I ran out of time to share what and how we learned---So sorry!
Since my last post, we have used the dry erase magnet boards a lot. At some point, I decided that we needed more writing space on the cookie sheet so I flipped the pan over and covered the backside with dry erase tape.
Now we have the best of both worlds: magnetic and dry erase!
So how are using these fabulous dry erase tape magnet boards to learn Mandarin?
I adapted an activity from a few weeks back (which I will call "Fix the Silly Mistake") to reinforce some new time words I had introduced.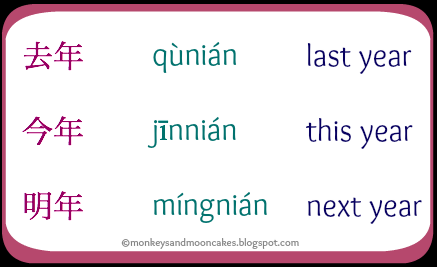 How we played "Fix the Silly Mistake"
1.
I wrote 3

sentences on the white board that were mostly correct, except for one word per sentence.
This one word (written on a magnet) made the sentence false (and very silly).
For example, on the tray pictured above I wrote:
-Dog was 1 year old

last year

. (The dog in question was born 6 weeks ago)
-Girl A wants to go to France

next year

. (A was hoping to go to France this year)
-Girl L went to China

this year.

(L went to China last year)
Okay, so maybe these sentences don't sound very silly here, but trust me, the girls were laughing!
2
.
The girls first read the sentences: identifying and looking up any characters they did not remember, and translating the sentences to English to double check their comprehension.
3.
Then, they discussed how to correct the sentence, and rearranged the magnet words so that the sentences read correctly.
4.
Last, they took turns reading the corrected sentence out loud in Mandarin and saying the English translation again to double check.
**More advanced Mandarin language students may not need this translating step, but the girls needed this extra step to reinforce their comprehension.
The take-away:
We love the flexibility of
t
he dry erase tape magnet board, providing endless
possibilities for language learning.
I love that it's small and portable too, great for our small house where language learning must be cleaned up to make space for dinner.
What are your "go to" tools for language learning?