I hope you all have had a wonderful Chinese New Years.
We welcomed in the year of the Monkey last week (along with Valentines Day and the beginning of Lent--busy week!) with family dinners, performances in our community,
making
banners with friends, and wrapping j
iǎozi
with classmates. It's a wonderful time of year to share our love of Chinese language and culture with others.
Here are some great ideas and resources I've stumbled across, perfect if you are still celebrating the New Years (you have until

Lantern Festival: February 22

)
1. Make a Chinese New Year poster.
I saw
this idea on Hubpages
and decided to adapt it for my beginning Mandarin class who just learned how to write numbers one through six (below left)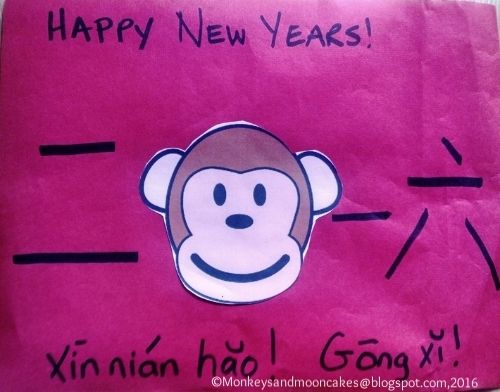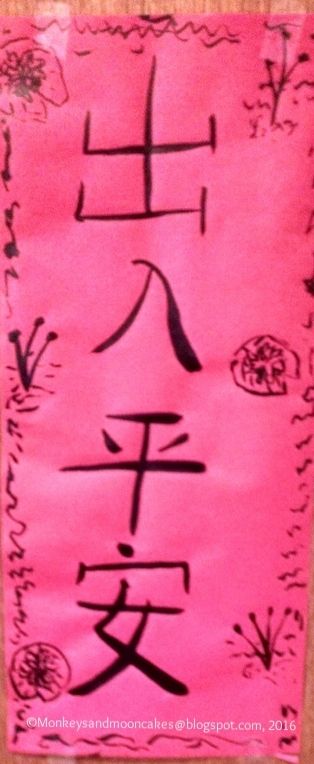 2. Make your own

Spring Festival Couplet

to hang by the door.
We painted the couplet 出入平安 (
Chūrù píng'ān, Peace when you come and when you go) with calligraphy brushes and ink on red paper from our local school supply store. No calligraphy brushes? No problem! You can easily use sharpies (jumbo sized for big characters).
3. Read
The Year of the Monkey
,
Oliver Chin's latest book in the Tales from the Zodiac series (Immedium: 2016)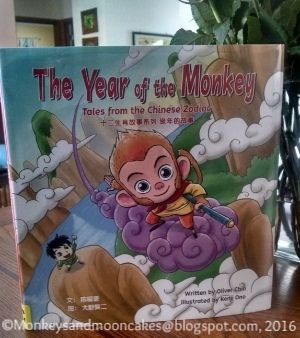 About the book:
The 11th book in this 12 book series, The Year of the Monkey tells the adventures of Max (son of the famous Monkey King) as he searches to find his fate.
1.
The story is full of Monkey king action. If your kids like Kung Fu Panda, this book will be a hit.
3. It's bilingual! No pinyin provided, but if you can read Chinese characters, you can read it in Mandarin.
4. Share Chinese New Years legends and traditions with friends through this cute video.
I stumbled across this cute and concise video
produced by the fast-food chain, Panda Express (Nope, they didn't pay me=)
when planning a Chinese New Year lesson for my beginning Mandarin class.
Super cute animation.
It tells the origin of the Chinese New Year, the origin of the Zodiac calendars, and how the holiday is celebrated today.
Check out
Panda Express's CNY website
to download free Chinese New Year printables.
5. Learn a New Years Song! Here are two of our favorites:
Gōngxǐ Gōngxǐ by BadaNamu
Sung in Mandarin at the beginning and then translated to English. If the verses are too complicated, learn the chorus:
Gōngxǐ gōngxǐ gōngxǐ nǐ (Congratulations to you!), which is what you say to someone during the New Year.
Xīnnián hǎo ya (Happy New Years!)
Mandarin lyrics and English translation posted
here
.
How are you celebrating the Year of the Monkey?
Xīnnián kuàilè!
新年快乐!
Happy Year of the Monkey!