As I cruised my local library for new books to read to my little ones, I stumbled upon three beautiful picture books written by Roseanne Thong and illustrated by Grace Lin.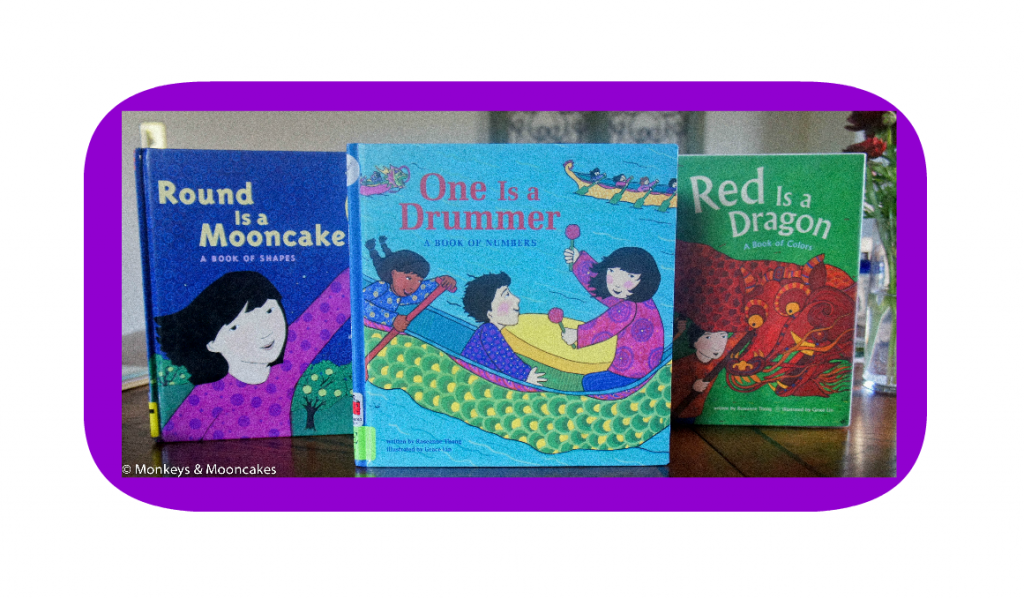 This three-part series introduces Chinese culture to the very young through vibrant illustrations and lilting text about
shapes, colors, and numbers.
------------------------------------------------
Fun Fact
In an interview with the South China Morning Post, Thong describes her inspiration for these books as her own daughter. When she was three, Thong wanted to read books with images her daughter would recognize from her life in Hong Kong. When none fit this description, she began writing these three books
.
-------------------------------------------
What I absolutely love about these books
Basic colors, shapes, and numbers

are introduced through

references to Chinese American culture and childhood

: a yellow

incense stick, a

round

rice bowl,

one

dragon boat, and also---

sprinklers, birthday cakes, and puppies.

The

author's note

at the end of the book briefly explains the Chinese cultural references mentioned in the story, making these books accessible for non-Chinese families as well.

The

lilting, rhyming text

makes the stories fun to read!

Grace Lin's beautiful illustrations.

If you haven't discovered this already, I am a huge Grace Lin fan. LOVE her stories, LOVE her illustrations. They are a feast for the eyes

with vibrant colors, beautiful patterns and scenes full of charming details.
The Takeaway
These books would make a great addition to any family's library and serve as a fun tool for parents hoping to introduce their child to aspects of Chinese culture.
Which books about Chinese culture do you enjoy reading to your young ones?